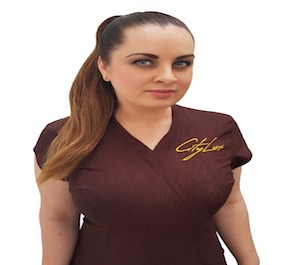 Linda-Lead Senior Therapist
Linda is our Lead-Senior Therapist with 9 year experience in massage therapy. She is originally from Latvia. She is one of our most popular and highly requested therapist with truly breathtaking massage skills. She has worked with many high profile people, providing them with the best massage service. Her hands are uniquely designed to provide some of the best massages ranging form soft massages to firm deep tissue massages which she has studied over the years. She is our strongest therapist and can apply a lot of pressure and strength to massage if needed.
Her style of massage is absolutely unique, by nature she has very warm hands and you can feel energy flowing through them on your body. If you are tired or stressed,she know exactly how to relax you. She pays special attention to her clients needs while ensuring professionalism and care.
She is also one of our friendliest therapists,she is very charming and is the best know for her smile and very positive attitude. Linda likes to talk with clients,making them feel very special and comfortable. In her spare time she likes movies, traveling, socializing, fine food, outdoor activities and luxury cars.
Treatments Linda provide:
Deep Tissue (very strong massage)
Swedish/Holistic (classic massage with medium pressure)
Aromatherapy (with essential aroma oils)
24K Gol Oil Massage- Exclusive in UK for CityLux
CityRelax (no pressure massage)
Thalgo Men facials
Thalgo Wellbeing massage
Yasumi Orchid Massage
Bioslimming body wrap
Note: Linda is available from 8am to 23.59pm from Monday to  Sunday and covering Mayfair/Knightsbridge only.

CityLux therapists are selected to provide world class Luxury Treatments and service that is truly Ultimate SPA and Massage experience,whether it`s at home, hotel room or any other comfortable setting.
If you don't know which therapist or treatment to choose, please call our main number and our receptionist will always recommend the best option.
07592063257

Covering Mayfair/Knightsbridge