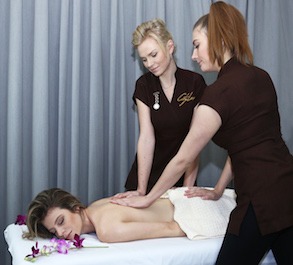 4 Hand Massage/Couples
CityLux New Offer- Four Hand Massage experience by two therapists at the same time.
Book any two therapists who will flow in synchronized harmony for the ultimate massage, designed for tension releasing, deep relaxation and re-balancing.
You will receive twice as much work and healing benefits from this massage. Many people enjoy this type of massage because they find it extremely relaxing, and they enjoy the sensation of being pampered by two massage therapists.
Four hand massage also promotes healing, just as other forms of massage do, by increasing blood flow and circulation throughout the body.
You can choose pressure- Strong, Medium or No Pressure (relaxing) massage.
Which service we provide
Deep Tissue (very strong massage)
Swedish/Holistic (classic massage with medium pressure)
Aromatherapy (with essential aroma oils)
24K Gol Oil Massage- Exclusive in UK for CityLux
CityRelax (no pressure massage)
Note: You can choose any 2 therapists for 4 Hand massage treatment.
CityLux therapists are selected to provide world class Luxury Treatments and service that is truly Ultimate SPA and Massage experience,whether it`s at home, hotel room or any other comfortable setting.
All our therapists are qualified and experienced, some with more than 8 year experience in massage therapies including Swedish massage, Deep Tissue, Relaxing,24carat gold oil massage and many more.
Our therapists are energetic professionals who love what they do, who are dedicated to doing it well, and who always present themselves in a polished, professional manner.
If you don't know which therapist or treatment to choose, please call our main number and our receptionist will always recommend the best option.
07592063257

Available in Central London